Tujuan saya membuat thread ini adalah
Saya ingin Berbagi dengan para pengguna Vga Nvidia, mengenai list2 software yg sudah mendukung Teknologi Cuda.
List Ini akan saya update terus seiring bertambahnya software-software yg mendukung cuda dan physx
Bg member lain Yg inigin berbagi info silahkan post disini nama softwarenya dan link info dr software tsb.
ok let's start
Sebelumnya download dulu physx versi terbaru disini
http://www.nvidia.com/object/physx_9.09.1112.html
[B]
© 2009 NVIDIA Corporation. NVIDIA, CUDA, GeForce 3D Vision, PhysX, SLI, the NVIDIA logo, and GeForce are trademarks and/or registered trademarks of NVIDIA Corporation in the United States and other countries. All other trademarks are the property of their respective owners. All rights reserved.

LIST SERI VGA YG SUPPORT CUDA
A table of devices officially supporting CUDA (Note that many applications require at least 256 MB of dedicated VRAM).
GeForce GTX 295
GeForce GTX 285
GeForce GTX 280
GeForce GTX 275
GeForce GTX 260
GeForce GTS 250
GeForce GTS 240
GeForce GT 240
GeForce GT 220
GeForce 210/G210
GeForce 9800 GX2
GeForce 9800 GTX+
GeForce 9800 GTX
GeForce 9800 GT
GeForce 9600 GSO
GeForce 9600 GT
GeForce 9500 GT
GeForce 9400 GT
GeForce 9400 mGPU
GeForce 9300 mGPU
GeForce 8800 Ultra
GeForce 8800 GTX
GeForce 8800 GTS
GeForce 8800 GT
GeForce 8800 GS
GeForce 8600 GTS
GeForce 8600 GT
GeForce 8600 mGT
GeForce 8500 GT
GeForce 8400 GS
GeForce 8300 mGPU
GeForce 8200 mGPU
GeForce 8100 mGPU
Nvidia GeForce Mobile
GeForce GTX 280M
GeForce GTX 260M
GeForce GTS 260M
GeForce GTS 250M
GeForce GT 240M
GeForce GT 230M
GeForce GT 220M
GeForce G210M
GeForce GTS 160M
GeForce GTS 150M
GeForce GT 130M
GeForce GT 120M
GeForce G110M
GeForce G105M
GeForce G102M
GeForce 9800M GTX
GeForce 9800M GTS
GeForce 9800M GT
GeForce 9800M GS
GeForce 9700M GTS
GeForce 9700M GT
GeForce 9650M GT
GeForce 9650M GS
GeForce 9600M GT
GeForce 9600M GS
GeForce 9500M GS
GeForce 9500M G
GeForce 9400M G
GeForce 9300M GS
GeForce 9300M G
GeForce 9200M GS
GeForce 9100M G
GeForce 8800M GTX
GeForce 8800M GTS
GeForce 8700M GT
GeForce 8600M GT
GeForce 8600M GS
GeForce 8400M GT
GeForce 8400M GS
GeForce 8400M G
GeForce 8200M G
Nvidia Quadro
Quadro FX 5800
Quadro FX 5600
Quadro FX 4800
Quadro FX 4700 X2
Quadro FX 4600
Quadro FX 3800
Quadro FX 3700
Quadro FX 1800
Quadro FX 1700
Quadro FX 580
Quadro FX 570
Quadro FX 380
Quadro FX 370
Quadro NVS 450
Quadro NVS 420
Quadro NVS 295
Quadro NVS 290
Quadro Plex 1000 Model IV
Quadro Plex 1000 Model S4
Nvidia Quadro Mobile
Quadro FX 3700M
Quadro FX 3600M
Quadro FX 2700M
Quadro FX 1700M
Quadro FX 1600M
Quadro FX 770M
Quadro FX 570M
Quadro FX 370M
Quadro FX 360M
Quadro NVS 320M
Quadro NVS 160M
Quadro NVS 150M
Quadro NVS 140M
Quadro NVS 135M
Quadro NVS 130M
Nvidia Tesla
Tesla S1070
Tesla C1060
Tesla C870
Tesla D870
Tesla S870

1. Cyberlink Power Director 8
adalah sebuah sotware yg berhubungan dengan
video editing dan video converter, fungsinya sangat lengkap dan support hampir semua file video
bahan format mkv pun disupport.
tentunya software ini sudah support cuda, dengan mengunakan vga nvidia anda bs mendapatkan feature hardware encoding yg tentunya hasil edit bs lebih cepat.
Optimized for NVIDIA® CUDA™
NVIDIA CUDA technology empowers PowerDirector to encode HD video in H.264 format significantly faster by leveraging the power of the GPU for improved rendering times for certain video effects.
daftar vga nvidia yg support untuk aplikasi ini
apabila ingin memanfaatkan kemampuan Hardware encoding
GeForce GTX 280 GeForce 9800M GTX Quadro FX 5600 Quadro NVS 360M Tesla S1070
GeForce GTX 260 GeForce 9800M GTS Quadro FX 4700 X2 Tesla C1060
GeForce 9800 GX2 GeForce 9800M GT Quadro FX 4600 Tesla C870
GeForce 9800 GTX+ GeForce 9700 GTS Quadro FX 3700 Tesla D870
GeForce 9800 GTX GeForce 9700 GT Quadro FX 1700 Tesla S870
GeForce 9800 GT GeForce 9650 GS Quadro FX 570
GeForce 9600 GT GeForce 9600M GS Quadro FX 3600M
GeForce 9500 GT GeForce 9500M GS Quadro FX 1600M
GeForce 8800 Ultra GeForce 9500M G Quadro FX 570M
GeForce 8800 GTX GeForce 8800M GTS Quadro Plex 1000
Model TV
GeForce 8800 GTS GeForce 8700M GT Quadro Plex 1000
Model S4
GeForce 8800 GT GeForce 8600M GT
GeForce 8800 GS GeForce 8600M GS
GeForce 8600 GTS
GeForce 8600 GT

link download trial aplikasi ini
http://www.cyberlink.com/downloads/t...dex_en_US.html
full review sotware ini bs ditemukan di link berikut
http://www.trustedreviews.com/softwa...rDirector-8/p1
2. Cyberlink Media Show Espresso
software ini fungsinya untuk mengconvert berbagai macam format file video ke format lain.
tentunya software ini juga sudah mendukung cuda, yg akan mempercepat proses konversi file
dan kelebihan software ini adalah
Convert Videos in All Shapes and Sizes
Express video conversion software MediaShow Espresso is the hassle-free solution for converting all your favorite videos for playback on iPhone, PSP, Xbox, YouTube and more. Simply choose the preferred media player or medium, and let MediaShow Espresso do the rest.
During video conversion, you'll save precious time with support for powerful Intel® Core i7™ and NVIDIA® CUDA™
File incompatibility will never compromise your viewing pleasure again. MediaShow Espresso converts a host of formats for today's leading media players.
download link
http://www.cyberlink.com/downloads/t...dex_en_US.html
review lengkap software ini
http://www.elitebastards.com/?option...=730&Itemid=27
3. MEDIA PLAYER CLASSIC HOME CINEMA
adalah software pemutar file2 multimedia dengan beraneka ragam format, dan tentunya format mkv yg sudah mulai banyak beredar sekarang.
Software ini juga telah mendukung penggunaan hardware decoding dr Nvidia.
sehingga beban procesor bs dipindahkan ke vga Nvidia anda
Player Features
Media Player Classic Home Cinema is an extremely light-weight media player for Windows. It looks just like Windows Media Player v6.4, but has many additional features. You can use the player as a Media Player Classic Home Theater.
Supported Decoding:
MPEG-1, MPEG-2 and MPEG-4 playback. Media Player Classic is capable of VCD, SVCD and DVD playback, without the need to install any additional software or codecs.
It has built-in codecs for MPEG-2 video and codecs for LPCM, MP2, AC3 and DTS audio, and also contains an improved MPEG splitter that supports playback of VCDs and SVCDs using its VCD/SVCD/XCD Reader. A *.mp4 and MPEG-4 Timed Text support added. An AAC decoding filter makes MPC suitable for AAC playback in MP4.
MPC Home Cinema also has H.264 and VC-1 with DXVA support, DivX, Xvid, and Flash Video formats is available in MPC HC. MPC can also use the QuickTime and the RealPlayer architectures. Media Player Classic supports native playback of OGM and Matroska container formats.
Supported Video, Audio and Image File Formats:
WAV, WMA, MP3, OGG, SND, AU, AIF, AIFC, AIFF, MIDI, MPEG, MPG, MP2, VOB, AC3, DTS, ASX, M3U, PLS, WAX, ASF, WM, WMA, WMV, AVI, CDA, JPEG, JPG, GIF, PNG, BMP, D2V, MP4, SWF, MOV, QT, FLV
List Vga Nvidia yg direkomendasi untuk hardware decoding
nvidia 8 series
link download
http://mpc-hc.sourceforge.net/downlo...lassic-hc.html
4. TMPGEnc 4.0 XPress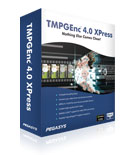 fungsi software ini
TMPGEnc 4.0 XPress gives you the freedom to take almost any video file and encode it to your desired file format including DivX® HD, AVI, QuickTime, MPEG 4-ISO, H.264, DVD-Video, DVD-VR, HDV camcorder, Blu-ray Disc and much more. This powerful software provides you with functions and features ranging from a simple cut-editor tool to multiple powerful video filtering and effects. Now with NVIDIA CUDA™ support!
Benefits: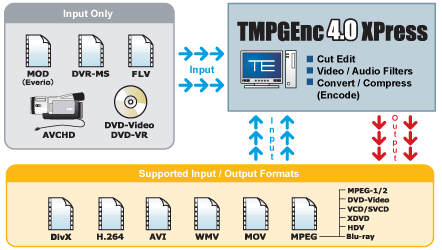 Convert Almost Any Video File!
TMPGEnc 4.0 XPress excels at converting video from one format to another. Got a Media Center recording that you'd like to convert to DivX? Or maybe you have a DivX file you'd like to convert to DVD-compliant MPEG? TMPGEnc 4.0 XPress can do it all, and you'll have complete control over the output settings. You can even make your own custom output settings!
Edit Your Video
TMPGEnc 4.0 XPress includes plenty of tools to enhance your video. Use the cut-editor to cut out unwanted scenes. Add filters to correct color, crop the picture, resize, sharpen, deinterlace, reduce noise, and more!
NVIDIA CUDA Support!
If you have a NVIDIA CUDA™ compatible graphics card, you can unleash the power of the GPU's multiple cores to crush the processing time for decoding and applying video filters! (Speed increases are dependent on your hardware environment and are not guaranteed.) Learn more...
Convert Your AVCHD Footage!
The popular AVCHD video format is now officially supported as an input source! Easily take your AVCHD footage and convert it to other video formats such as DVD-Video!
Blu-ray Disc Encoding!
We've added a new output template for the Blu-ray Disc format! Convert your video into BDMV or BDAV compliant MPEG-2 video and maintain the quality of your high definition footage!
SpursEngine™ Support via Plug-In!
Unleash the power of Toshiba®'s SpursEngine for blazing fast hardware H.264 and MPEG-2 encoding! The recently announced SpursEngine Plug-In for TMPGEnc 4.0 XPress will allow you to harness the power of your SpursEngine device. Currently supported devices include Leadtek's WinFast PxVC1100 transcoding card, Canopus' FIRECODER Blu card, and select Toshiba Qosmio series laptop computers. Click here to learn more about the plug-in!
DivX® HD 1080p Support!
With support for the latest DivX® encoder/decoder, you can output in full 1080p! Awesome DivX compression technology and full HD video! What more could you ask for?
Utilize NVIDIA CUDA™ For Filtering and Decoding
NVIDIA CUDA technology is now supported for processing the video filters and decoding. The multiple cores of the GPU can divide the workload and run the processes in parallel for a huge boost in processing speed over your computer's CPU*. This lets you apply multiple filters such as video noise removal (time), smart sharpen, color correction, and more without having to add hours to your output time!
download link
http://tmpgenc.pegasys-inc.com/en/download/te4xp.html

5. Adobe Flash Player 10.0

Gain unprecedented creative control with new expressive features and visual performance improvements in Adobe Flash Player 10.
Flash Player is a cross-platform browser plug-in that delivers breakthrough Web experiences to over 99% of Internet users.
di versi 10 ini adobe flash player juga sudah support Nvidia Cuda
link download
http://get.adobe.com/flashplayer/
6. NERO MOVE IT
Feature
Supporting all types of formats for music, videos, and photos, Nero Move it lets you enjoy all your multimedia files on the most popular portable and mobile devices, with free updates to others as they become available. Access your files quickly and hassle-free from any supported source including your PC, digital camera, portable devices, and from online communities, and easily transfer them to iPod®, iPhone™, PSP® and other mobile devices or online communities.
Listen to your favorite songs stored on your iPod® or your mobile phone. Transfer your pictures to My Nero and other online communities with just a few clicks.*
Nero Move it gets CUDA acceleration
Another consumer multimedia application can now use GeForce GPUs to speed up video encoding. Nero has released an update for Move it that brings CUDA support to the multimedia mobility software.
Move it isn't exactly new, of course. The first version of the app came out last September, promising to let users easily transfer music, videos, and photos across different computers and devices—assuming they paid $50 for the full version, that is. The free CUDA update lets users transcode H.264 video with GeForce 8 or better graphics processors, which significantly reduces encoding times (Nvidia claims a five-fold improvement) and lowers CPU utilization. Think Badaboom, but in a different package from a different developer.
you can download the CUDA-enabling 1.5.8.0 update right now from Nero's download site. Otherwise, you can grab a free trial on this page and buy the full version here. Apparently, the full digital download is available at a discount for $29.99 (compared to $49.99 for the boxed copy).
link download
http://www.nero.com/ena/downloads-moveit-trial.php