Mohon maaf kalau double post....
Penemu PHYSX dan CUDA katanya akan hijrah ke AMD. Bener apa nggak infonya kita tunggu aja hasilnya.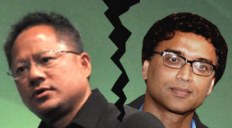 May 25th, 2010 at 10:37 am - Author
faith
Word has reached KitGuru that Manju Hegde, nVidia's VP for CUDA and PhysX, is moving to AMD. What can we infer from the situation, when Vidia's own VPs seem to believe that Fusion is the Future?
Langsung aja ke TKP :
http://www.kitguru.net/components/gr...-moves-to-amd/