INTRO
Kemaren dapet kiriman dari sumberutama jakarta PSU COUGAR POWERX 550W. Seri POWERX adalah varian baru dari PSU COUGAR yang masuk di Indonesia. Seri POWERX terdiri dari 3 pilihan WATT, 400W, 550W dan 700W. Tapi yang baru masuk ke Indonesia 550W. Untuk sertifikasi masih sama dengan seri A ataupun CMX yaitu 80PLUS BRONZE

FITUR, AC INPUT/DC OUTPUT dari COUGAR POWERX 550W
Tecnical details and special features
* EXTREMELY HIGH EFFICIENCY
Up to 89% of efficiency, compliant with 80-PLUS® Bronze @115V efficiency requirement.
* EXTREMELY STABLE RIPPLE/NOISE PERFORMANCE
High voltage stability, Ripple/Noise <1%
* COMPATIBLE WITH LATEST PC-TECHNOLOGY
Supports the newest specifications of ATX12V.
Created for usage with current and next-generation multi-core CPU platforms.
* SUPPORT MULTI-GPU TECHNOLOGY
Support PCI Express 2.0 next-generation graphic card with 8(6+2)pin PCI-E connector.
* 105 °C JAPANESE CAPACITORS
COUGAR use highest durable 105°C Japanese capacitors provide uncompromised performance and reliability, delivering 4 times the lifespan of conventional 85°C rated capacitors.
* HDB (Hydro-Dynamic Bearing) 12cm FAN
Advanced HDB (HYDRO-Dynamic Bearing) fan provide best lifespan and super silent performance. Temperature-controlled design adapts its rotating speed to the PSU temperature. Even on its highest rotating level the fan is still quiet enough to be barely noticeable.
* DYNAMIC DUAL 12V
Automatic dynamic load distribution on DUAL 12V rail provide power separately to the GPU and the CPU. If you are not using all output lines, the PSU automatically reroutes needed power from unused lines. This improves the performance of the 12V lines considerably for systems with high-end graphic cards in SLI® or CrossFire® mode and provides high voltage stability to keep components safe.
* COMPLIANT WITH LATEST EUROPEAN DIRECTIVE 2005/32/EG (EuP)
* SUPPORTS THE ENERGY STAR 5.0
Compatible with Energy star 5.0 computer system.
* FULL PROTECTIONS WITH OCP, SCP, OVP, UVP, OPP
AC INPUT/DC OUTPUT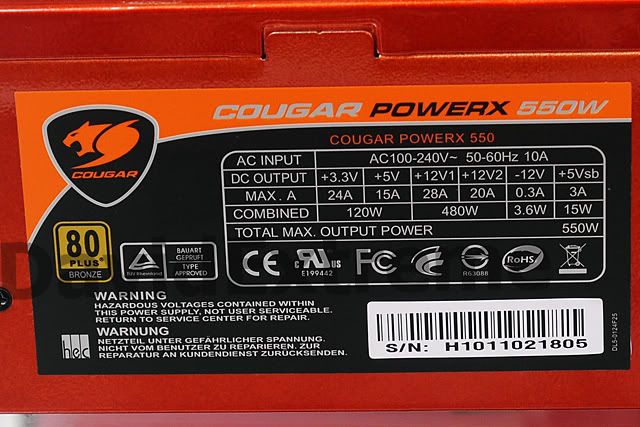 Seperti biasa untuk AC INPUT 100V-240V tanpa manual switch. Tersedia dual rail +12V masing2 +12V1 = 28A dan +12V2 = 20A, kombinasi keduanya mencapai 480W. Untuk rail +5V dan +3.3V masing-masing 24A dan 15A.
KEMASAN DAN BUNDLE YANG DIBERIKAN
Kemasan.......
Kemasan simpel seperti COUGAR A series.
bundle.......
Dalam paket penjualan terdapat :
- Buku Manual
- Kabel Power
- Konverter Molex to FDD
- Cable ties
- Baut
- Sticket Cougar
PENAMPILAN FISIK COUGAR POWERX 550W
Menarik nih tampangnya...
Case PSU kokoh dan berwarna orange. Buat PC modding mantab juga.
Tampilan FISIK.....